The 14th Symposium on Refractories Materials, jointly organized by Henan, Liaoning, Shandong, Shanxi, Zhejiang and Guizhou Provinces Refractories Industry Association, was held in Kaifeng from June 12th to 14th, promoting green and healthy development of refractories industry. Chairman of the board Mr. Baikuan Liu was invited by the organizer to give a keynote speech titled Current Status and Future Trends of Refractory Industry in China, sharing his opinion on the development process, current status and future trends of China's refractory industry.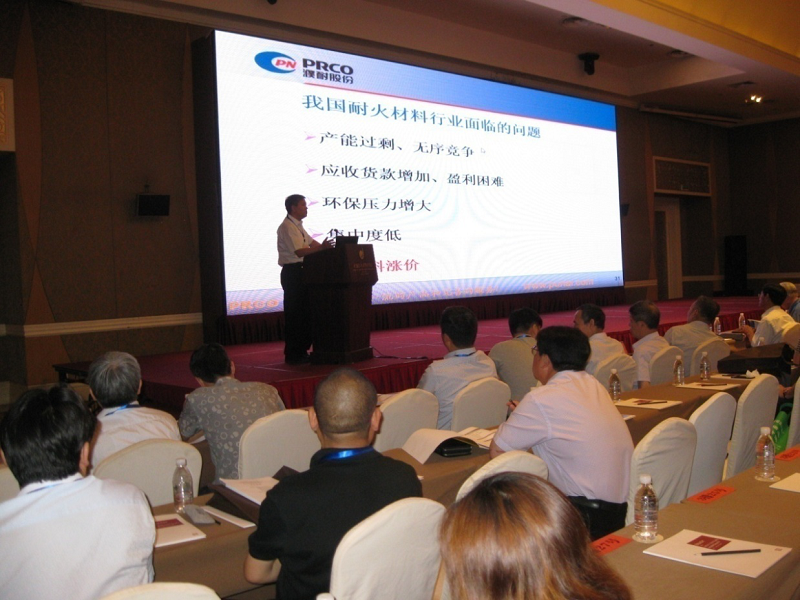 According to Mr. Liu, the development process of China's refractory industry can be divided into the following four stages, namely, the initial development stage of 30 years since 1949, the rapid development stage of 30 years thanks to the reform and opening up, the standardization and promotion stage from 2009 to 2014, the stage to cut overcapacity from 2015 to a period of time in the future. In the initial development stage, the industry relied on state investment and construction. State-owned enterprises like Luoyang Refractories provided a large number of cheap and high quality basic engineering materials for the industry. Since the reform and opening up, China's refractory industry has developed rapidly, and the state invested to build several large state-owned iron and steel enterprises represented by Bao Steel. Demand for refractory materials soared, and the state opened mining industry to private enterprises. Successful foreign refractory enterprises such as RHI and Vesuvius have invested in China. From 2009, Chinese refractory enterprises have stopped relying on import. Refractory production reached a peak in this period, and manufacturing equipment, product quality and enterprise management level have reached an unprecedented height. As the supply-side structural reform deepens in both upstream and downstream industry, the refractory industry the production is now in the stage to cut overcapacity. In 2013, China's refractory production reached a peak of 29.28 million tons, and then continued to fall to 23.91 million tons last year, and in the next 5 - 10 years it will cut at least nearly 1/3 of the production.
In his report, Mr. Liu analyzed problems encountered in the current refractory industry. One of the problems is excess capacity and disorder in competition. At present, China's refractory industry capacity utilization may be less than 70%. Downstream industry reducing production leads to reduction in infrastructure consumption of refractories, as well as improve in refractories quality. Overcapacity caused by consumption reduction has worsened the problem. Oversupply leads to excess capacity in the current market and many small enterprises are dispersed. These directly result in complete disorder in the refractory market competition. Because of imbalance between supply and demand, refractory enterprises lose the privilege to set price when negotiating with the downstream enterprises. Many small businesses rely on low price to win market, which intensifies vicious competition in the market. Second, accounts receivable increase and turning a profit is difficult. Low price sales and payment after shipment have put refractory enterprises in the risk of capital chain breakage, and further narrowed the meager profit margins of the industry, disrupting the market order. Third, environmental protection pressure has driven up the price of raw materials. In 2017, major raw material prices have increased significantly compared with last year, such as magnesia, high alumina bauxite, corundum. The environmental protection department has improved governance in Haicheng, Liaoning Province, the main producing area of magnesia. 46 enterprises and 679 furnaces were closed because of failing the environmental protection standard. The price of magnesia doubled while sales plummeted. Fourth, the industry concentration is low. According to the National Bureau of Statistics, refractory raw materials and manufacturing enterprises with annual sales above 20 million RMB amount to 2,000, while enterprises with annual sales income above 100 million RMB reach only 100. The top 60 refractory enterprises' sales revenue accounted for only 30% of the annual sales of China, while the first 10 enterprises constituted only about 17%. Although in recent years, refractory industry concentration has increased, especially significantly in the twelfth Five-Year Plan. But the status of 'small enterprises dispersing' still has not been completely changed.
Mr. Baikuan Liu pointed out that, although refractory industry is facing great challenges, the refractory material has always been an indispensable basic material for high temperature industry. Opportunities and challenges exist side by side. The structural reform of the supply side will bring about a good opportunity to improve the concentration of production and speed up the joint reorganization. With the gradual improvement of the domestic market economy, market awareness and independent research and development capabilities will improve significantly in refractory enterprises, and the pace of joint reorganization will be accelerated significantly. Domestic refractory enterprises expand the scale of enterprises through their own development and joint reorganization, and a number of highly competitive large enterprise groups gradually formed. Large-scale enterprises can enhance their ability of capital operation, reduce the cost of capital operation, lower management risks, and promote healthy and stable development. Due to the new normal conditions of China's economy, environmental protection, raw material prices soaring and other pressure, market chaos like disorder in competition and price fight will disappear. Only by scientific and technological innovation, fine management, development concept of intelligent manufacturing, and taking the initiative to adapt to the supply-side structural reform, can enterprises find a place in the future market.
In the end Mr. Baikuan Liu said, the Ministry of Industry and Information Technology issued Several Opinions On Promoting the Healthy and Sustainable Development of Refractory Industry in 2013, stating that by 2015, 2-3 enterprises should be of international competitiveness, and a number of new industrial industry demonstration bases should be created; By 2020, the top 10 enterprises should increase industry concentration to 45%, with a refractory recycling rate of more than 75%. PRCO will carry out related work according to relevant requirements of the Ministry of Industry and Information Technology, and improve energy efficiency, develop high-end products, and continue to carry out scientific and technological innovation.
Mr. Baikuan Liu's report received recognition and endorsement of the participating entrepreneurs. In the seminar, the Henan provincial government authorities and industry leaders also shared their opinions on current hot topics such as the supply-side structural reform, excess capacity and environmental protection and so on.